If you own a leasehold flat, choosing who manages your property is your legal right. Since the commission of the Commonhold and Leasehold Reform Act 2002, prescribed steps have been created to allow every leaseholder the right to manage their property, subject to a few minimum requirements.
If you have been struggling to work with your current managing agent or your freeholder is managing the development without your best intentions in mind and you have reached your limits. Why not contact us to see how this process can give you and your fellow residents control of your service charge and maintenance obligations.
At Essex Properties, we have successfully acquired the Right To Manage for many of our clients who have chosen to remain with us as their new managing agent even after our service has been completed. We are confident that our friendly, affordable and customer-focused service will satisfy every client throughout the legal process.
Our approach is to take the complexity of property management and legal issues away from clients and provide a simplified, clear and transparent service to ensure our clients are well-advised and well-protected.
Before we can carry out our Right To Manage services, a few checks need to be conducted. These will include (but not limited to):
– Obtaining confirmation from residents of their intentions to form a Right To Manage company.
– Ensuring that residents are "qualifying tenants" under the above legislation
– Understanding why the client would like to conduct a Right To Manage and explain whether this is right for them, how the process works and confirming whether this is the best approach.
Our free, no-obligation consultation includes the above preliminary checks and discussions. Once the client has agreed that this is the right service for them and they wish to continue, we offer two different services and very competitive prices.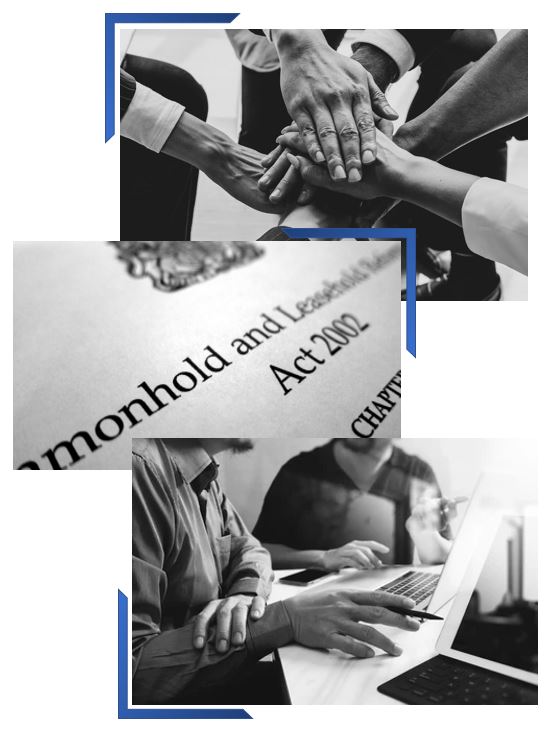 Frequently Asked Questions